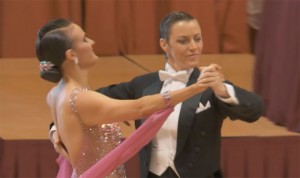 Emily Coles began her illustrious dance career at the ripe age of five, prancing on stage with nine other little girls in tutus and slippers. She loved the stage, but the tutu was not a fit. Over the next 20 years, Emily searched for the "right" dance, trying modern, jazz, tap, Afro-Cuban, even American Tribal Bellydance, and finally salsa…and the salsa stuck. She eventually added a full range of ballroom, latin & social dances.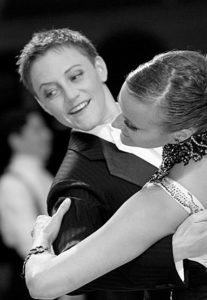 Emily has severe ("brittle") type 1 diabetes, diagnosed at age three, and wears an insulin pump 24/7, even while performing. From 2005-2008, while working for a nonprofit that advocates for people with diabetes, she also taught at a small dance studio in San Francisco. She now teaches dance fulltime, including private and group classes, as well as special events. She is also an avid long-distance cyclist.
Emily has competed extensively all over the world. She and dance partner Kieren Jameson held first place title as North American Women's Dance champions in both International Standard and Latin. They danced together in Copenhagen, Cologne, Rotterdam, London and Budapest, and also competed at the 2014 Gay Games.
Photos: Top: Emily Coles (left) and Kieren Jameson, photo by Chris Phan. Middle: Kieren Jameson (left) and Emily Coles, still from film. Bottom: Emily Coles (left) and Kieren Jameson, photo by Robert Cortlandt.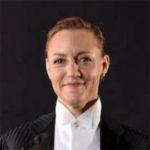 Need an amazing dance instructor?
Emily teaches dance in San Francisco. Visit her site.