Born and raised in Bulgaria, Kalin started ballroom dancing at the age of seven. His sister brought him to a competition, and he was instantly captivated by "all the sparkles and feathers and people spinning around."  He began competing as an amateur youth (dancing mainstream), and consistently placed in the finals of many prestigious competitions throughout Europe.
At the age of eighteen, he became one of the youngest assistant coaches at the Vratza Youth Center where he originally trained. Kalin went on to perform in various dance shows in Bulgaria, as well as in Cyprus and Turkey. After moving to America, he joined the Fred Astaire dance studio in 2005. He and former dance partner Michael Winward were 2011 U.S. and North American Same-Sex Ballroom Nine-Dance Champions, 2012 North American Same-Sex Ballroom Nine-Dance and Standard Dance Champions, and 2013 US champions in all American styles.
In 2013, Kalin created the Boston Open DanceSport ballroom competitions and classes, to simultaneously promote dance and equality.
Photo: Shell Jiang shelljiang.com.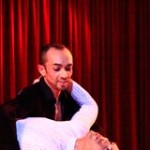 Kalin organizes ballroom dance competitions and gives classes