Robbie's passion for dancing began when he was 7 years old, in his native Hungary, and his innate talent was recognized soon after, when he won the Junior National Champion title in Ballroom Dancing at age eleven. He competed across Europe at numerous International dance competitions representing Hungary as a NATIONAL YOUTH CHAMPION. He trained with top coaches in Hungary, Russia and the UK, with a repertoire including jazz, ballet, contemporary, and Broadway dance.
Some of his highest achievements have been in same sex dancing, where he often beat out fierce competition to win multiple World Champion Titles.
Robbie moved to America in 2009 to apply his prowess with a U.S. audience, and has traveled the world introducing Same-Sex Ballroom Dancing to a wider public. He was featured in the New York Times, LA Times Magazine and other publications, and on primetime news in Hungary, Germany, Denmark and the U.S., fighting for equality with every dance move.
Recently, Robbie and a group of passionate professionals founded the Dance of America Foundation, with the mission to help at-risk and LGBT youth through ballroom dance projects.
Photo: Robbie Tristan (right), Ernesto Palma (left), Photo by Dina Potocki.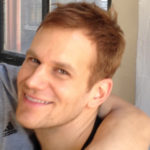 Need an amazing dance instructor?
Robbie teaches dance in New York. Visit his site.