Zoe Balfour grew up in Wales and has danced all her life, starting early with Scottish Sword dancing to the music of bagpipes. Her current passion is International Standard Ballroom.
She didn't start competition ballroom dance until the age of 44, but within four years, Zoe was a North American champion. She won silver medals in both Standard and Latin at the 2002 Gay Games in Sydney, and was ranked 5th in the world in Women's Standard ballroom at the Gay Games 2010 (with former dance partner Citabria Phillips), as well as 6th in the world in Latin Ballroom at the Out Games 2006. She and Phillips won the Women's North American Ballroom Champions title five years in a row.
Zoe has been teaching dance for over 25 years. She coached 30 men and women in their quest to compete in the 2006 Gay Games, and another 12 for the Copenhagen 2009 Out Games. They all achieved their goals.
Zoe has been involved in feminist politics since her early 20s. She sees same-sex dancing as an extension of that activism—a powerful part of the political struggle for social change and "queer visibility."
Photos: Shell Jiang shelljiang.com.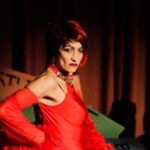 Need an amazing dance instructor?
Zoe teaches dance in Oakland. Visit her site.